eZo Festival
2022
Jul 15 / Fri
Jul 16 / Sat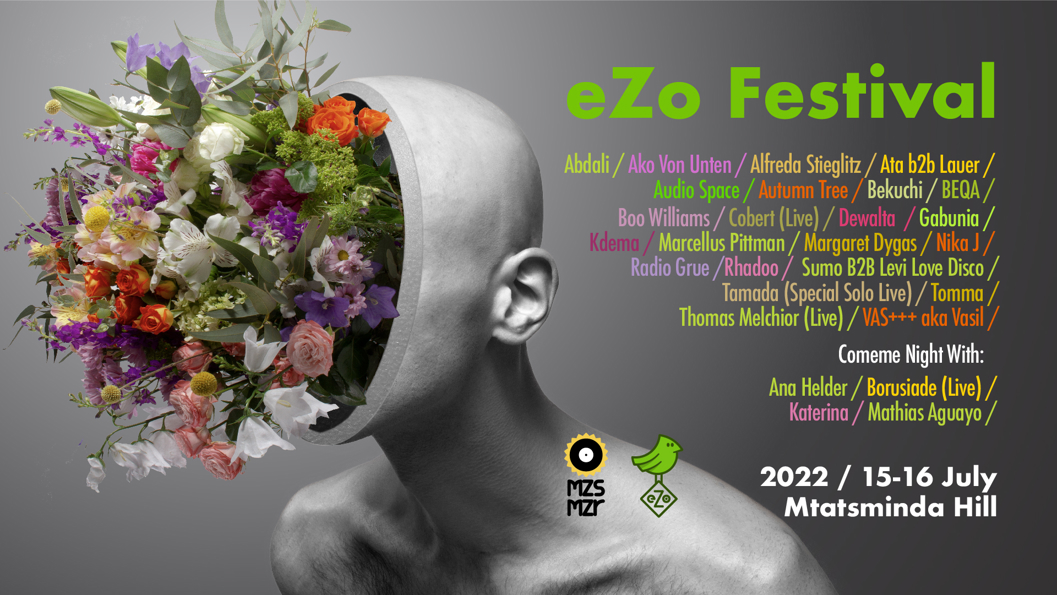 How many days does it take to miss something? Is 1057 enough?
After three years, on July 15-16, the eZo festival is back.
We spent 1001 days and nights thinking about our reunion. Enormous love and effort was put into making an unforgettable, continuous fest.
Came up with a fascinating line up
Revamped the main stage, which will only be open for the festival
Set up new spaces
Grew even greener, bigger and prettier.
Yet, better see and hear it yourself, so start getting ready.
Line up:
Abdali
Ako Von Unten
Alfreda Stieglitz
Ata b2b Lauer
Audio Space
Autumn Tree
Bekuchi
BEQA
Boo Williams
Cobert (Live)
Comeme Night With:

Ana Helder
Borusiade (Live)
Katerina
Mathias Aguayo

DeWalta
Gabunia
Kdema
Marcellus Pittman
Margaret Dygas
Nika J
Radio Grue
Rhadoo
Sumo B2B Levi Love Disco
Tamada (Special Solo Live)
Tomma
Thomas Melchior Ltd (Live)
VAS+++ aka Vasil
(Alphabetical Order)

Tickets:
I basket - 100₾ (full pass)
II basket - 120₾ (full pass)
III basket - 140₾ (full pass) 80₾ (daily)
IV basket - 160₾ (full pass) 100₾ (daily)
At door - 100₾

Face და Age კონტროლი (18+)
All of our events will have a specific beneficiary affected by the ongoing aggressive war against Ukraine
Громадяни України відвідають захід безкоштовно.
Ukrainian citizens will attend the event free of charge.
Russian citizens will be able to purchase tickets only from the website, if passing special online face control.