eZo Festival 2023
Pre-Opening
Apr 28 / Fri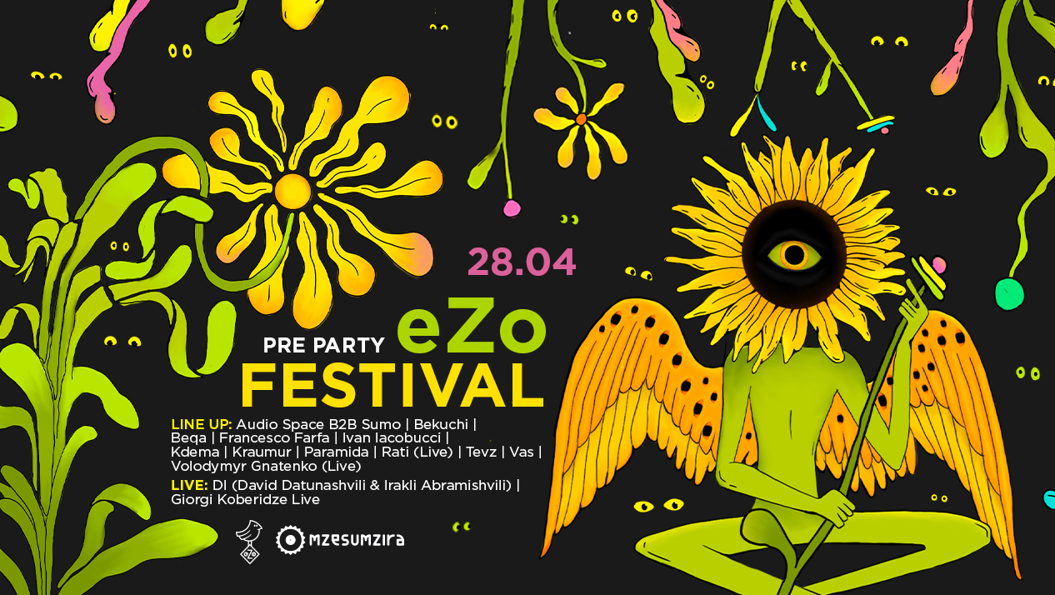 For several years, with the arrival of spring, the excitement of the upcoming eZo festival has been increasing 🌻🎈

We didn't spare our efforts this time either 💪 eZo will be filled up with fresh lineup, exciting news and positive emotions 🥰​
​
We are delighted to announce that this year we will start all four events with a LIVE program specially designed for the eZo festival 🎶

We promise to bring you an exciting experience in all three scenes with oDa, kOs mOs, and Ska.

eZo's main scene will be revealed on April 28th in a completely different form 🤫 You'll understand exactly what I mean once you arrive!

Lineup:
Audio Space B2B Sumo ​
Bekuchi ​
Beqa ​
Francesco Farfa ​
Ivan Iacobucci ​
Kdema ​
Kraumur ​
Paramida ​
Rati Live ​
Tevz ​
Vas
Volodymyr Gnatenko Live
Live: ​
George Koberidze​
DI (David Datunashvili & Irakli Abramishvili)

📸 Reminder, taking photos/videos is prohibited on the dance floors. Take care of your bracelet until the end of the event.

🚗 Shuttle taxis will run from Leonidze Street to the festival territory 👉 from 21:30 on April 28 to 22:00 on April 29. Also, every half hour from Mtatsminda parking lot.

🚃 The funicular will also operate throughout the night, but if you still prefer to go your own way, here's the location: ​Google Maps
Tickets:
I basket - 40 GEL
II basket - 50 GEL
III basket - 60 GEL
At the door - 60 GEL
❗ Face and Age control ❗
🇺🇦 Free entry for Ukrainian Citizens.
Citizens of Russia and Belarus will be able to purchase a ticket only from the website, only after the passing a special online control.