eZo Festival 2023
Last Dance of Summer
Jul 07 / Fri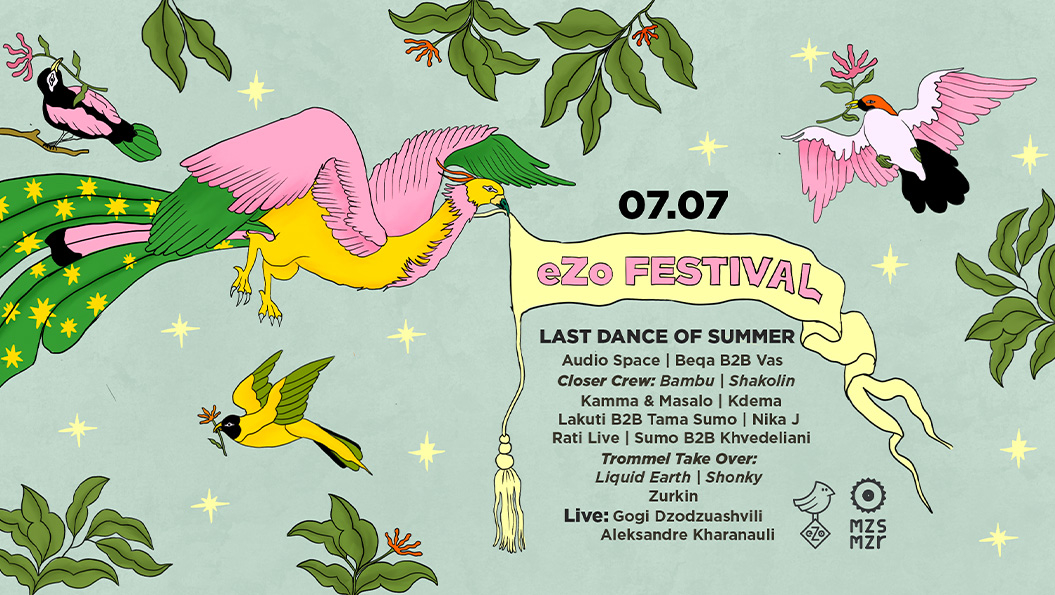 Last Dance of Summer 🌻
While our final summer dance lies ahead, we can proudly declare that this year's summer has been an absolute blast!
A big shout-out goes to everyone who played a part in making this festival a reality, for without your invaluable involvement, this event would not have been possible.
Circle July 7th on your calendar because that's when the eZo stage will come alive again, and we're all gonna reunite in the same awesome spot!​

On the evening of 07.07, Gogi Dzodzuashvili and Aleksandre Kharanauli will be gracing us with a captivating live performance.
And don't forget to check out the rest of the lineup below 👇
Audio Space
Beqa B2B Vas
Closer Crew: Shakolin B2B Karine
Kamma & Masalo
Kdema
Lakuti B2B Tama Sumo
Nika J
Rati Live
Sumo
Trommel Take Over: Liquid Earth | Shonky
Zurkin

📸 taking photos/videos is prohibited on the dance floors.
Take care of your bracelet until the end of the event❗
🚗 Shuttle taxis will run from Leonidze Street to the festival territory 👉 from 21:30 on July 7 to 22:00 on July 8.
Also, every half hour from the Mtatsminda parking lot.
Tickets:
I basket - 50 GEL
II basket - 60 GEL
III basket - 70 GEL
IV basket – 80 GEL
At the door - 80 GEL
❗ Face and Age control ❗
🇺🇦 Free entry for Ukrainian Citizens.
Citizens of Russia and Belarus can purchase a ticket only from the website after passing a special online control.